Whether it is a wedding reception, a bridal shower or an anniversary celebration, making memories begins with the facility that the event is held in. If you operate a banquet hall, then you know the importance of offering a well-appointed, safe and functional facility for your guests.
Kleckner Interior Systems has been providing our quality services to banquet halls throughout Northern Indiana and Chicagoland for over 20 years. We provide drywall, metal studs and trusses, insulation, acoustical and special ceilings, carpentry and fixtures. And we do it safely too! Our EMR rating of 0.66 exemplifies our commitment to workplace safety.
Take a look at some of our featured banquet hall projects below - and then call Kleckner Interior Systems at (219) 787-8876 or contact us online and start filling your hall!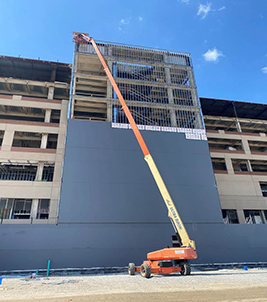 Christopher Center Library
Kleckner provided extensive work on this new university building. The Christopher Center is truly a beautiful addition to the VU campus...