Click for larger images
The requirements for industrial projects are vastly different from most other projects we undertake. Creating functional, expansive, wide-open spaces that accommodate the diverse needs of today's industry is key. But also imperative to the project must be rugged durability, longevity, flexibility and a safe work environment. Flow and function are paramount to industrial projects.
Kleckner Interior Systems has the skill, talent and years of successful project experience to complete your industrial project on-time and on-budget. Our experience with metal studs and metal trusses, insulation, acoustical and special ceilings allow us to exceed your project expectations. Plus, we are dedicated to workplace safety; our EMR rating of 0.66 exemplifies that.
Take a look at a few of our industrial projects below. Looking for more information? Do you have an industrial project that we might accommodate? Contact Kleckner Interior Systems today by calling us at (219) 787-8876 or by contacting us online.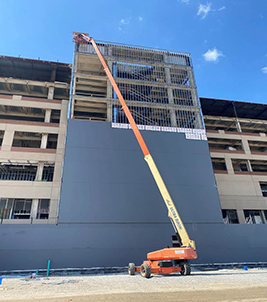 Christopher Center Library
Kleckner provided extensive work on this new university building. The Christopher Center is truly a beautiful addition to the VU campus...