What makes Kleckner Interior Systems the premier drywall contractor in northwest Indiana? Let's start with our years of experience delivering a wide range of successful projects for a variety of clients and industries that include drywall and wallboard. Our project managers work closely with the client and designers to ensure the finished drywall project fulfills all of its objectives. From universities to retail to healthcare, our experience in creating inspiring spaces with drywall and wallboard is simply unrivaled.
We understand your unique needs. We know that no two drywall projects are the same. From hanging drywall and wallboard to taping, smoothing, finishing and painting, we create awe-inspiring rooms. Our finished drywall projects inspire learning, motive purchases and support careful recovery.
Unique to the healthcare field, all Kleckner employees are Certified ICRA Trained. This training helps ensure the health and safety of your patients and staff following project completion. Click here to learn more about ICRA Training for employing the best practices in healthcare construction.
Take a look at some of our drywall and wallboard projects below and you can see why Kleckner Interior Systems is the premier drywall contractor in northwest Indiana. Call us today at (219) 787-8876 or contact us online.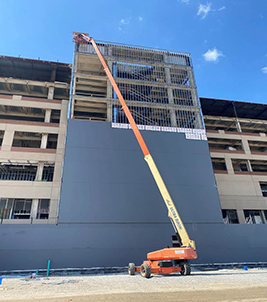 Christopher Center Library
Kleckner provided extensive work on this new university building. The Christopher Center is truly a beautiful addition to the VU campus...