Purchasing Enterprise, Inc. is the in-house purchasing arm of Kleckner Interior Systems. By having the ability to both purchase and house our own materials, we have the building materials we need, when we need them. This means we can typically get the products we need to a job site faster, with quicker project completion and lower overall project cost than our competition. In fact, in 2015 we purchased over three million dollars in construction materials to help ensure we had what we needed when the project called for it.
Just take a look:
With Kleckner, you will enjoy:
Better prices on projects and building materials with our in-house purchasing
Huge on-hand inventory; building materials are available when they are needed
All products are stored in our climate-controlled warehouse until they are needed
We typically have truckloads of metal studs and thousands of sheets of drywall on hand and ready to go
Our convenient Northwest Indiana location offers easy access to Interstates 80/94, the Indiana Toll Road, I-65 and US-30
Four route trucks deliver project materials from Chicago to South Bend to Lafayette
Kleckner Interior Systems is proud to feature the following brands:
To learn more about Purchasing Enterprise, Inc., or to join our list of manufacturers, call us at (219) 787-8876 or contact us online.
To find out how Kleckner Inter Systems can make your next project a success, call us at (219) 787-8876 or contact us online.
Purchasing Enterprise, Inc. is certified as a Woman-Owned Business Enterprise (WBE).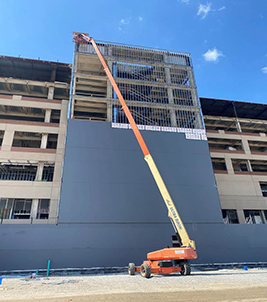 Christopher Center Library
Kleckner provided extensive work on this new university building. The Christopher Center is truly a beautiful addition to the VU campus...