Construction of institutions requires a special degree of knowledge, skill and experience uncommon to many other construction projects.
Institutional facilities such as jails, prisons and detention centers have special needs for drywall, metal studs and trusses, insulation, acoustical and special ceilings, carpentry and fixtures. Kleckner Interiors has the experience in institutional construction to get the job done right on time and on budget. And we get the job done safely too. Our EMR rating of 0.66vdemonstrates our commitment to workplace safety.
Take a look at some of our institutional projects. If you have an institutional construction or remodeling need, call Kleckner Interior Systems at (219) 787-8876 or contact us online.
St. Joseph County Jail
South Bend, IN


St. Joseph County Juvenile Detention Center
South Bend, IN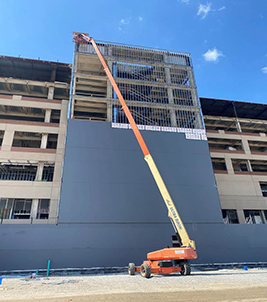 Christopher Center Library
Kleckner provided extensive work on this new university building. The Christopher Center is truly a beautiful addition to the VU campus...