Click for larger images
When you visit a tourist destination such as a casino or museum, do you ever think about the building you are in - all those high ceilings, angled walls, and that fantastic lighting? Ever wonder who does all that work - and does it so well to stand the test of time and thousands of visitors every day?
Kleckner Interior Systems has been making entertainment destinations beautiful and functional for over 20 years. We have the experience and craftsmanship to get the job done right, the first time - and on time. We offer drywall, metal studs and trusses, insulation, acoustical and special ceilings, carpentry and fixtures. And we do it all safely too. We are dedicated to workplace safety - and are proud of our EMR rating of 0.66.
Take a look at some of our featured destination projects below. Want to know more? Contact Kleckner Interior Systems today by calling us at (219) 787-8876 or by contacting us online.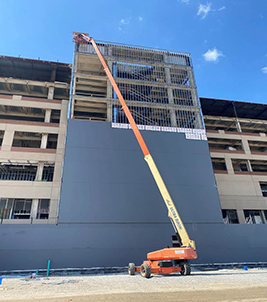 Christopher Center Library
Kleckner provided extensive work on this new university building. The Christopher Center is truly a beautiful addition to the VU campus...